Unique Hen Party Ideas, Activities and Tips
July 12, 2016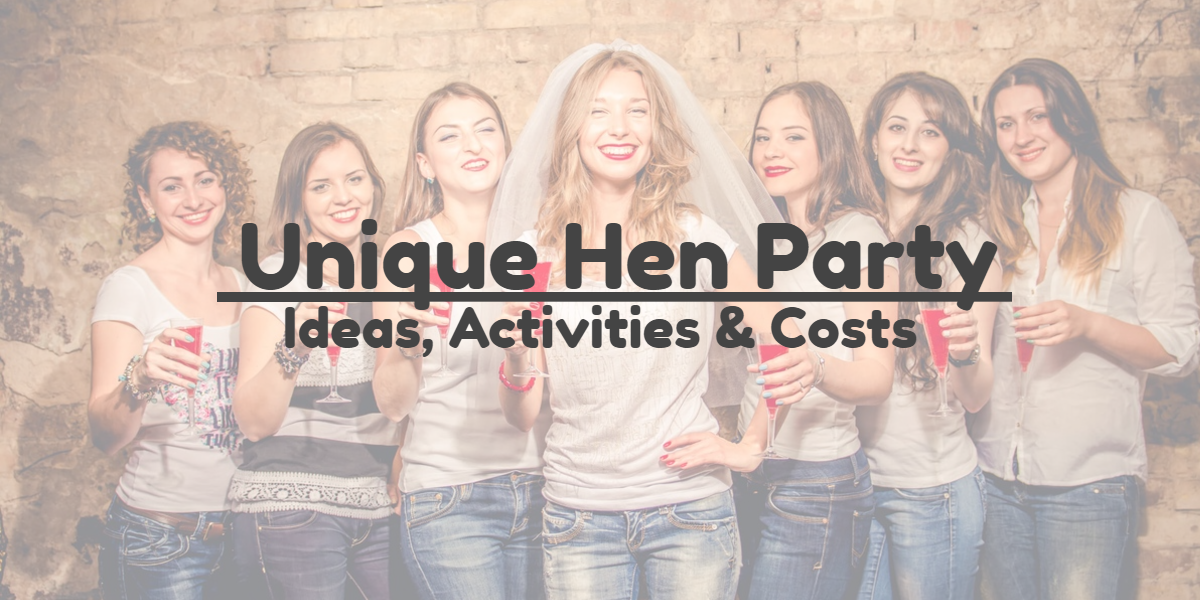 If you're hunting for amazing hen party ideas, you certainly have to set a bit of time aside for research. Sure, you can always go for traditional choices, but where would all the fun be? Nowadays, hen party ideas have become more and more creative, and it is actually encouraged that the hens think outside of the box to create the most memorable experience for the bride.
You can always take the bride out for club night, a few drinks at the pub or a game of laser tag, but wouldn't it be far more exciting to take her on a quad bike safari, 4x4 off-road driving or clay pigeon shooting to bring out her wild side? In fact, what would it be like to combine all of these activities into one experience she will always treasure even after her wedding?
The possibilities are limitless when it comes to hen party ideas. All you have to do is get those creative juices flowing and start putting the pieces of this incredible puzzle together! We'll help you out with the whole process with hen party ideas, activities and tips that will save you loads of time and money along the way. Check them out below!
---
The Basics
Hen Party Games

Outdoor activites
---
Getting Started with the Basics
---
Getting a fabulous hen party together isn't easy, especially for the person or team planning it. It takes a lot of time, dedication and imagination to brainstorm over hen party ideas and create the picture-perfect memory. Nevertheless, after you get the ladies together and you all go through hen party ideas, you will see that it should be all smooth sailing from there. We will talk more about involving everyone in the process below, but before that, we need to go through the basics.
If you are solely responsible for organising the hen party, you literally have to start from scratch. Saving the date, putting together the perfect guest list and running through logistics can seem like a handful at first. However, if you set up a checklist and go through tasks one at a time, you will see that the planning process isn't as complicated as it might seem at first. What you do need to keep in mind is that the difference is in the details, always.
. You could have the big picture all planned out but fail at seemingly insignificant aspects, like inviting the right guests or even choosing the proper date. Below you can find three essential aspects that you need to take into consideration when playing around with hen party ideas.
---
Deciding on the Date - Timing is Everything
Funnily enough, quite a few hen party planners (not professional teams, of course) tend to overlook this aspect every time. Do not – we repeat: – do not plan the hen party a day before the wedding. Not only will the bride be completely exhausted on the most important day of her life, but her bridesmaids will also look and feel like a mess. We're all for partying all night long, but you should never forget the main purpose of a hen party – getting the bride excited for her wedding, not making her crash and burn along the way.
When deciding the date of the hen party, you should first start off with the specific number of days you want the hen party to last. Some groups opt for just one unforgettable day or night, while others even sweep the bride away for a weekend outside the city or country. Both options will work just fine, but you have to establish the precise number of days for the hen party. Please note that not all guests might be able to take three days off work or be away from responsibilities at home. Consider discussing it with everyone involved beforehand to see how their schedules align with your ideas. Now that you have decided on the number of days, you got to pick the perfect date(s). Make sure that the hen party takes place at least a week before the bride's wedding. If you plan it any closer, she might be overwhelmed, nervous or uncomfortable, making the hen party's purpose, to have fun, practically useless. If you choose the weekend before her wedding, this might be the best option you have at hand for everyone involved.
---
Nailing the Essentials: Guest List, Transport & Costs
After you establish the date, you have to venture into logistics. First of all, you need to see who will be on the guest list. This is quite a delicate aspect of the process, as you can't expect the bride's great aunt to come with you to a night club or on a 4x4 ride. If you believe the bride or her female relatives would truly like to be involved, you could organise activities separately.
For example, you can keep the laid-back activities during the day with the conservative guests and the partying at night with the younger or more outgoing ones. As an alternative, you can plan a 3-day hen party so everyone can enjoy it. An example of activities in this situation may be:
Day 1: Go to the spa and get massages, facials and other pampering

Day 2: Have a fun day outdoors with hens of all ages. In the first part of the day, engage in activities for everyone, while in the second part of the day get down and dirty with those who want a little more excitment.

Day 3: Go clubbing with the party hens.
Secondly, you need to set the specifics for transportation. It is recommended that the hens and bride stay together throughout the party, even if travelling to various locations. For small groups, you can go with an SUV that you or one of the guests might have. For larger groups, you can consider renting a van for the whole day or weekend. If you really want to make the bride feel like a superstar, you can go all-out and rent a limousine for the party. Nonetheless, if you choose the last option, make sure that everyone can afford to pitch in.
This leads us to the third and most significant part of planning a hen party – the costs. Naturally, you need to cover all of these costs with the hens involved. Even though money isn't the most pleasant topic in the world to bring up, you still have to go through the costs with the guests to establish a budget that everyone can agree on. You should be open for negotiation, especially if close friends or relatives of the bride have something to say on this topic. It is strongly recommended that you collect everyone's share of the budget beforehand to avoid any unpleasant last-minute scenarios.
---
Involving Everyone: Asking ther Bride & Hens for Suggestions
Even if you are the chief bridesmaid, you don't have to put the weight of the world on your shoulders. Indeed, most of the responsibilities will be yours, but don't forget that you are surrounded by a team of bridesmaids and guests that should be more than willing to lend a helping hand with planning. You can start with hen party ideas and work your way down to specifics as you progress.
To get started, you can set up a relaxed meeting to bounce around hen party ideas. To save time and get creative gears going from the minute you meet up, you can ask the girls in advance to do some individual research. Pinterest is the #1 source for girly inspiration you have online, so don't hesitate to start from there. WeHeartIt and Tumblr are also always great sources for getting hen party ideas.
After everyone gathers their hen party ideas, you can all meet for lunch and talk about them. Here are a few key points to keep in mind:
Is this the kind of activity the bride would enjoy?
What budget do we have at hand for the whole party?
Would all guests have fun doing this?
What can we do to make it even more memorable?
Once you set up the basics of the party, you can start delegating tasks. For instance, you can delegate custom t-shirts to one bridesmaid and make reservations at various locations to another. You can all agree on what tasks everyone is best at.
---
Hen Party Games
---
When the basics and logistics are all settled, you can start planning the fun part of the hen party. The more games and activities the hen party has, the more fun everybody will have playing them. This is yet another task that you can carry out with the whole hen party team, playing around with ideas to make it is enjoyable as possible. What we mentioned in the first part of our guide about guests also applies here. You can choose activities and games for part of the guests and different ones for the other half if their personalities are very different.
The fun part about hen party games is that you can be as childish as you like. In the end, a hen party is a celebration of youth and nobody will be making jokes that the games you choose are just for kids. You can think about games the bride usually has fun playing and continue from there. Or you can think of some really fun and hilarious ones you can all try out for the first time. You can discuss game options when you meet to talk about other hen party ideas.
---
Caber Toss for the Strong
If you want to mix tradition with hours of laughs, you can gather everyone for a good old game of Caber tossing. You will have tonnes of fun trying to throw this wooden beam, in one of the most beloved Scottish games until this day. Even though it's unlikely you will achieve high athletic performance, you will be smiling from ear to ear giggling the game away, not to mention burning those unwanted calories.
---
Show Off Your Welly Wang Skills
Another amazing game that should definitely be on your hen party ideas list is welly wanging. What makes this game perfect for hen parties is that it is not at all complicated and it is sure to generate plenty of smiles and laughs. Gather the girls to throw a Wellington boot as far as you can. We recommend that you let the bride win, to make the game even more enjoyable, but you can also bring out your competitive side and see who can wang the welly the farthest.
---
Tug of War to Increase Your Appetite
It's impossible not to have a good time while playing tug of war. This is one of the best hen party games you can engage in if you are with a large group. You can split the whole group into two teams and pull your way to victory! You already know the rules; all you have to do is enjoy every second and don't get too upset if your team doesn't win! After a good and exhausting match of tug of war, you will enjoy your hen party dinner even more!
These are just a few of the memorable outdoor games that you can play with the bride and hens. You can also have fun with some classic indoor games like truth or dare, bridal Pictionary, or pass the parcel. Never forget that you shouldn't restrict your imagination if you want a hen party with long-lasting memories for everyone.
---
Unforgettable Hen Party Outdoor Activities
---
If your hen party is during a day that's blessed with nice weather, why keep everyone inside? Even more so, you can make the hen party better by whisking away the bride and her hens to a great outdoor location for a wonderful adventure. The bride will be thrilled to have such a unique party, and the guests will never be able to forget it. Here are just a few activities you can take part in outside.
---
Quad Biking for an Exhilarating Morning
What can be more exciting than riding a quad bike while enjoying a beautiful scenery? If you want to start the hen party in an unconventional way in the morning, you can book an hour of quad biking on a beautiful trail that will take your breath away. You don't have to worry about safety or lack of experience. If you opt for professional services, everyone in the party receives helmets, waterproof clothing (trousers and jacket) and will be guided throughout their fascinating outdoor journey.
For sixty minutes, you can take in a breath of fresh air, enjoy the stunning surroundings and even hit the pedal for a bit of adrenaline! Please note that, in most cases, riders need to be at least 16 years old to ride. If you have never been quad riding before, and you want to see what it's like, you can check out this video to get a closer look.
If you want more 4-wheeled fun, you can also take the group 4 x 4 off-road driving for an even more thrilling experience.
---
Archery in a Gorgeous Landscape
If you want to go back in time and enjoy a challenging and rewarding activity, archery should definitely be among your hen party ideas for outdoor activities. Regardless if you are an experienced archer, or if this is your first time with a bow and arrow, you will have loads of fun trying your hand at this great game.
When you go to a professional range, you will have all the equipment you need at your fingertips. All you have to do is listen to the instructions provided and have fun trying to reach the target! You will also have access to both closer and farther ranges so you can test your skills in different ways. To spice things up even more, you can place friendly bets with the hens and see who pays for drinks after the game.
You can see how your game of archery could unfold here.
---
Clay Pigeon Shooting to Test Your Skills
If you really want to get the adrenaline pumping for the night party, you can try your hand at clay pigeon shooting. The great part about this activity is that you will get the excitement of regular shooting, but you won't be harming any animals in the process. However, even though this kind of gun firing isn't done with real birds, it successfully reflects the genuine experience as much as possible.
You don't need to be a pro to have fun with this activity. In fact, inexperienced shooters are bound to enjoy the laughs even more as they try to challenge their skills for the very first time. As you can see , you will have targets flying throughout the sky, and you have to do your best to impress the bride and hit them. As with all other outdoor activities that serve as great hen party ideas, you will get all the equipment you need for an hour full of fun.
---
Fun Wildgoose Treasure Hunt
Remember when you were young, and you all loved going on treasure hunts and exploring? Well, you can recreate the adventurous vibes with a wildgoose treasure hunt that's bound to keep the bride and the hens entertained for two and a half hours. As time has passed and technology has advanced, this wildgoose treasure hunt will have a modern twist to your favourite childhood game. You get digital hints and embark on an urban journey to discover all sorts of intriguing places in the city, while putting together pieces of the puzzle based on trivia and interactive tasks.
This is a fantastic outdoor activity if you want to go exploring and bring out the adventurous side for the entire party. You can also split your party into two teams and see who gets to the treasure the fastest! You will receive prizes at the end, and you will find out who were the best hunters in your group. The bride is sure to enjoy this one!
---
Final Thoughts
---
In the end, the bride will appreciate any party that her best friends and close ones put together for her. However, you should always remember that these are the most beautiful days in the bride's life and that she deserves them to be perfect. After you set up the location, date, and budget, you can go wild with all sorts of ideas to make the hen party unique and delightful every minute. It can be a bit challenging at first – especially if you have never organised a hen party before – but it will be oh-so-rewarding at the end. Don't hesitate to put thought and effort into organising the hen party.
We always recommend originality and, as we said above, thinking out of the box. You don't have to organise a traditional hen party – go outside and explore the limitless opportunities you have. No matter if you opt for archery, quad riding or a wildgoose treasure hunt, you are sure to create memories that will last for years to come. Even if the first steps are stressful, don't forget to enjoy the beautiful memories you are all creating together. Trust us, the heart-warming smile on the bride's face during and after the party is priceless.